Project 4: Staging a Home in Roseville: Removing Concrete
This Roseville home was purchased by an investor who makes his money by flipping houses. Major landscape changes to the rear yard helped to enable the quick sale of the house.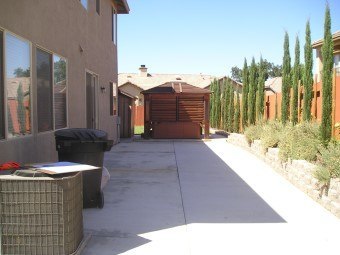 BEFORE
This landscape had way too much concrete. When we measured the job in the middle of August, the ambient temperature was 100 degrees. The reflected heat from the paving, though, made it seem like it was 120 degrees (it may have been—all I know is that I couldn't stop sweating!) Not exactly a getaway feel.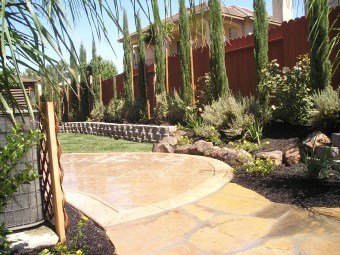 AFTER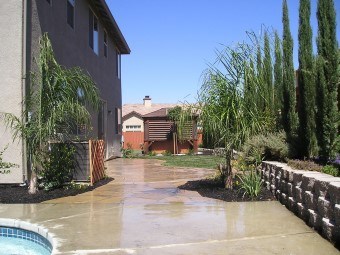 AFTER
By cutting out some of the concrete, we achieve several goals: the home is much more environmentally friendly because of reduced cooling bills; the small lawn creates a more tropical atmosphere; the backyard is a much more aesthetically pleasing place to be. The new colored concrete in an earthy color looks much more natural and updated than the stark color you see in the before picture.
The new flagstone apron is a remedy for interfacing a new concrete pour with existing concrete. Replacing all of the concrete would have been cost-prohibitive. Because it is a very small area of flagstone, flagstone aprons are easy and inexpensive ways to dress up a yard for staging.
Notice how screening off the a/c with lattice work adds to the upgraded look.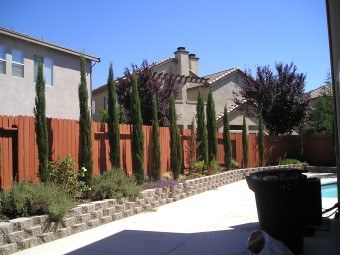 AFTER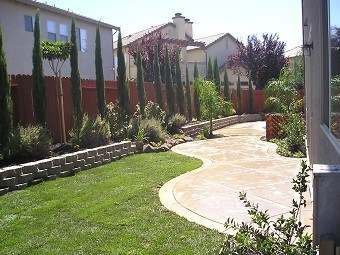 AFTER
One mark of a good landscape designer is one who thinks outside the box (or wall, shall we say?). We break up this straight, one-elevation wall by cutting out a section of it and using moss rocks to retain. The use of these boulders not only takes away potential awkwardness in adjoining the curve of the patio with the wall, but it actually accents both the patio's nice curve and the pulled-out planter section of the wall. Skilled landscape designers know that it is absolutely necessary to eliminate all "left-over" strange pieces when cutting up the landscape pie. All spaces are graceful.
Look at the trees in both pictures. Although the cypresses are completely appropriate in this Mediterranean garden, we need a contrasting shape to bring out their beauty. For this purpose, we add a crape myrtle for some color (this one is not in bloom yet) and queen palms. Gardenias next to the patio and lawn add to the tropical feel.