Thoughts of a Quiet Garden Activist on Earth Day
(This originally appeared as an article by Cathie Tritel  in the newsletter of the Redbud Chapter of the California Native Plant Society)
On Earth Day I like to reflect on what nature has given me and how I can give something back. I've done the activism scene of attending protests, speaking out at council meetings, and putting comments in on Environmental Impact Reports. But on this Earth Day, I'm keeping my computer off and spending the day as a quiet garden activist.
Unlike other forms of activism which can be draining, garden activism restores the soul, while providing a direct immediate benefit to nature. It's the perfect kind of activism for the mainstream person who feels disillusionment with the political side of environmentalism–repelled by the thought of being labeled an "activist", yet yearning to do something to counteract the voracious bite of development.
The facts: 75% of United States land is in private ownership, and as many baby boomers retire, gardening is becoming one of the fastest growing pastimes in America. What are the ramifications of these facts? If these people were educated on how to garden to benefit the earth, garden activists could really develop some power!  Now, I don't mean the kind of power that makes city councils turn down a project, but I mean the power to make a difference for nature on one's own property.
A garden activist has the power to save lives with her gardens. Populations of bees and other pollinators suffering vast declines throughout the world due to habitat loss, poisoning, diseases, and pestilence perform essential roles in stabilizing food supplies, ecological restoration, endangered species protection, and commercial orchard production. Garden activists can save pollinators' lives, as well as the lives of migratory birds which need food, water, and shelter during their stopovers. In a small way, a garden activist can even help to reverse the trends of development and global warming.
The easiest way to begin garden activism is by planting with native plants. Native species are best adapted to local soils and climates and require less fertilizer, water, and pest control.  Wildlife is adapted to native plants and often is unable to utilize non-natives. Native plant gardening is important because it provides hope that California's unique plants will not go extinct. Due to the state's many unique microclimates and rare ecosystems, many of California's plants are endemic–they can only be found here and nowhere else in the world. Development greatly reduces native plant numbers, especially when cities have policies which do not permit developers to landscape with more than 50% natives. Native plant gardening can lessen these impacts.
For those activists who insist on protesting, I suggest protesting against invasive non-native species such as star thistle, horehound, and Himalayan blackberries. My back protests every time I have to pull one. It is now a full war to fight these invasives, a fight to the death, where the only survivors are those that continue to grow while I try to rest from an intense pulling session.
One's country property can become an arena for activism of a gentle kind, even for a lazy activist (inactivist). Grass is fodder for the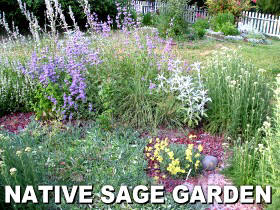 non-energetic activist. By being lazy and leaving some areas of grass unmowed, the gardener can contemplate how the food chain means more than Raley's. Not for the faint-hearted, one may watch rabbits and mice serve as food for coyotes and hawks. Be braced for the snakes that may come too–seeking out a gopher meal. Even innocent baby bluebirds will devour swarms of insects. The lazy gardener can chew on a piece of (long) grass as ground nesting birds hatch their young. She can also meditate on how her great grandchildren may someday see a heritage oak tree which grew from a tiny seedling, a seedling which was not cut down in his undisc-ed  field.
On this Earth Day, being a quiet garden activist probably won't get the attention of the politicians, but it may attract some birds and bees. Today I am envisioning legions of quiet but passionate garden activists, armed with hoes and spades, marching to their gardens to fight for the Earth, to restore the Earth, one plant at a time. Making a difference                   . . . and smiling all the way.