Sue Y., Sacramento
It was time to redo the yards and nix the grass. We wanted a more drought tolerant landscape plan with minimal maintenance and maximum street appeal. We were given (Cathie's) Bluestar Landscape Designers name as a reference from friends. Wow.
She was a joy to work with and quick to respond to any questions or concerns during the concept phase of our project and all the way to project completion. On receiving the landscape design and proposal, we were thrilled. She was able to incorporate some of our favorite existing plants/trees in her design. She even suggested a way to provide more privacy from the street in the design for our front yard by including a panel of screens. Her design included options for lighting, hardscape, and drip irrigation.
As "dyed in the wool" DIY (do it yourself) homeowners, we wanted to do the labor, construction and planting portion of the project ourselves. With Cathie's sage advice and patient guidance, we we're able to save on the cost of contract labor and still produce an awesome outcome.
Whether you are an experienced "do-it-yourself" homeowner or are a "turn-key" client, Bluestar Landscape Designers is an excellent choice.   We highly recommend this company.
The Young Family





Steven N., Roseville
My wife and I were looking for a landscape designer to assist us in coming up with a design scheme for our front yard. We also live in a HOA community that has guidelines to follow for landscape projects and needed to have plans submitted for approval.
We met with a few landscape designers and decided to go with Cathie from Bluestar Landscape Designers. Out of all the designers we met, she was the one that stood out from the crowd. Her professionalism, experience, design portfolios, and willingness to incorporate elements of our ideas into her own landscape designs certainly made her the right choice to go with.
Our front yard landscape design was approved by our HOA without issue. Cathie did such a fantastic job with the design plans and was very wonderful to work with that we decided to hire her to manage the project and to work in conjunction with our contractor.
The project has since been completed and the landscape not only looks beautiful, but it has also changed the entire look of the whole house for the better! I am always getting compliments from family, friends, and neighbors. We couldn't be anymore happier. Thank you, Cathie! We will be  definitely using Bluestar Landscape Designers for our future projects.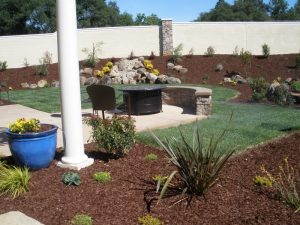 Larry W., Rocklin
We are extremely pleased with our backyard project that was designed and managed by Cathie of Bluestar Landscape Designers.  Cathie is very thorough, knowledgeable and detailed.  Cathie was able to take our ideas and wants for our backyard and transform them into a beautiful reality.  She coordinated all the bids with detailed comparisons, worked closely with all the subs (concrete, patio cover, landscape) and was on site for critical placement of plants, rocks, concrete finish……
I have never written a Yelp review although I use Yelp as a key resource when doing my research.  I felt compelled to share my experience regarding Bluestar Landscape Designers in the event that others may be looking for a very capable and professional company for their landscape design.





Leslie R., Rocklin
Cathie's design concept fit my needs perfectly!  Her selection and placement of plants was terrific, and she also selected and placed ceramic pots that complement the hard scape and landscape so well, that they put a smile on my face every time I see them. I am very happy with our new backyard!  Cathie got a feel for what my likes and dislikes were, and designed a backyard just for me. She even helped me pick out patio furniture that would go perfectly with the new look.  I'm looking forward to many pleasant days in our new yard.