Email:  cathie@bluestarlandscapedesigners.com
Phone:  916-624-1984  or  530-878-1984
Bluestar Landscape Designers is a custom landscape design company dedicated to creating beautiful outdoor living spaces that suit your style. We work with you to create an aesthetic, functional, and affordable landscape. We have worked on hundreds of projects covering a broad spectrum of services, from one-time hourly consultations to full sets of plans, from small yard makeovers to large landscapes. We can help you through all the phases of your landscape, starting with the development of a vision and plan for your yard, then coordinating solicitation of bids from the skilled contractors who build for us, and finally overseeing the project to make sure it is built according to our creative vision. Please see our Services page for more information on what all we can offer you. Our service area includes Roseville, Rocklin, Granite Bay, Sacramento, Auburn, Meadow Vista, Lincoln, Grass Valley, Nevada City, Folsom, El Dorado Hills, Elk Grove, and Davis.
---

 Who Uses Bluestar Landscape Designers?

 What Kinds of Outdoor Living Spaces Do We Design?

 Why Do You Need a Designer?

 What Sets Bluestar Landscape Designers Apart from Other Landscape Design Companies?

Our Background
---
Who Uses Bluestar Landscape Designers?
We design for homeowners, landscape contractors, home builders, staging companies, the do-it-yourselfer, realtors, landscape architects, condo owners, landlords, tenants, and commercial building owners. We feel equally comfortable with designing for city dwellings and suburban landscapes, as well as country landscapes and estates. For some customers, we merely help them to make their container gardens or courtyards look good.
We strive to make our customers feel comfortable with the landscape design process (please see our page which tells you how the process works). Our down to earth staff starts with where you are. For some, this means you may not be sure of where to even start or have no clear vision of what you want. We enjoy helping our customers figure out what it is they are looking for in their outdoor living space, then we design it, and help them to find an installer to make it come to life.
Other customers may have a pretty firm idea of what they are looking for; some even have a basic design drawn on paper. With them, we serve as a catalyst, intermediary, or translator, for drawing their design to scale and helping them to connect all the dots for making their dream landscape design become a reality.
What Kinds of Outdoor Living Spaces Do We Design?
At Bluestar Landscape Designers, we design a beautiful landscape to fit your style, not ours. We enjoy and have experience designing all types of landscaping styles.
MEDITERRANEAN LANDSCAPES   

    LOW-MAINTENANCE LANDSCAPES
DROUGHT-TOLERANT PLANTS
FORMAL LANDSCAPES   

    RESORT STYLE LANDSCAPES
ENVIRONMENTALLY FRIENDLY / GREEN LANDSCAPES
OUTDOOR LIVING SPACES   

    TROPICAL YARDS
COTTAGE GARDENS   

    CONTAINER GARDENS   

    WOODLAND GARDENS
CONTEMPORARY LANDSCAPES   

    ASIAN & JAPANESE GARDENS
CURB APPEAL
SPECIALIZED PLANTINGS FOR:
BUTTERFLIES   

    HUMMINGBIRDS   

    WILDLIFE HABITAT
CALIFORNIA NATIVES   

    DEER-RESISTANT
We have designed pretty much anything you can imagine:
PATIO COVERS   

    UNIQUE RETAINING WALLS
CUSTOM WATERFALLS AND OTHER WATER FEATURES
PATIOS (concrete, flagstone, pavers, tile)
DECKS (wood and Trex)   

    WALKWAYS   

    SEATWALLS
MOUNDS   

    POTS   

    FIREPITS
CUSTOM KITCHENS AND BARS  

    STAIRWAYS
FIREPLACES   

    DRY STREAM BEDS   

    and of course, PLANTS!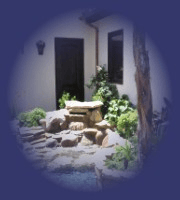 Are you seeking a space that's soothing and relaxing? Maybe you would like a lush woodland garden.
Would you like a sophisticated formal garden that reminds you of England or Tuscany? We can design that for you.
Maybe you would like an outdoor living space that makes you feel like you're in the tropics—sensual and hot? …All within the experience of our landscape designers.
Not sure what your style is? We'll help you discover it.
No matter what your style is, we can create front yards that are traffic-stoppers, backyards that are tranquil oases.
Or sometimes our customers just say, "We don't care. Just make it beautiful." And that's what happens.
Why Do You Need a Designer?
You need a vision and a plan. Don't be piece-meal about it.
Your chances for getting that beautiful landscape that you've always desired are greatly improved if you start with a vision from which you develop a plan. The installation process is relatively easy, and can happen as slowly or quickly as you desire.
Professional landscape designers are able to:
Help you figure out what your vision is (what you want in a landscape),
Translate the vision of a usable and beautiful yard into a plan,
Draw the plan to scale so that all elements fit together in the most functional and beautiful way possible.
Explain the broad picture of the landscape process so that it is tackled in the right order. 
One of the biggest mistakes that homeowners make when putting in a landscape is to take a "piece-meal" approach to it. This can happen for various reasons: perhaps you are excited about a new landscape and just want to get started, or maybe you don't have the finances to put in everything you'd like all at once, so you start putting in one element at a time.
There is nothing wrong with building a landscape gradually, but having a design at the beginning helps to eliminate the pitfalls of this approach. We have been called out to redesign many jobs that were not designed or built properly to begin with. Concrete patios are too small to be usable, or are too large and are unused (they can also add to the heat load, becoming unbearably hot). Unsuitable plants die from too much sun, grow to be too large, or are too small for the space they need to fill. Yards do not provide the functions that the homeowners want and need from their yard. Elements are commonly out of scale with each other, and the space just really doesn't look as aesthetic as it could.
This can result in elements being out of scale to each other, unusable spaces, unsuitable plants being used, and a general lack of aesthetics. In the long run, it costs you money and frustration.
Here are real life examples of what we've seen happen when a landscape designer is not used: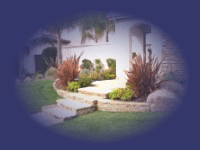 You decide you need a patio right away, so you have a contractor come out and pour one. Later you discover that a portion of your patio is unusable because it is too small to be functional. You also realize you forgot to put a planter in right next to your house, and now it's summer and so much concrete feels really hot!
You want some instant screening from your neighbor, so you put redwoods in two feet from your back fence. Once they start taking over your yard and your neighbors', you figure out that you should have used a different plant.
You want some plants in right away to make you feel at home, so you go to the store and buy ones that look pretty that day. Six months later some of the plants are being scorched by the sun for lack of proper placement, and others are overtaking your walkway because you put in plants that get 5 feet wide in a 2 foot space.
A good landscape designer has knowledge that you don't have.
There are some homeowners who are quite good naturally at designing their own yards, but usually, even the best could use some professional advice in one area or another. Landscape designers are trained in the fields of art and design, and usually spend years developing a true understanding of how to use plants in the landscape. In addition, as previously mentioned, designers understand the landscape process. Why reinvent the wheel?
The plan is the springboard for building the landscape of your dreams.
Plans tell builders just what you and the designer had in mind, for both hardscape and softscape elements. This enables you to get bids for how much a project will cost, as well as compare apples to apples when looking at those bids. For example, a plan might call out flagstone stepping stones on individual mortar pads (the mortar pads help to reduce rocking). Having this in writing on the plan sets a standard for building and for quoting.
Landscape designers save you money.
Obviously, the fewer poor choices a homeowner makes on a project results in the fewer fixes you'll have to make, all amounting to more money in your pocket. This is true not only for expensive hardscaping, but for plants as well.
For the do-it-yourself customer, we can get you plants at discounted prices.
And finally, because we work with several different contractors throughout Sacramento, Roseville, Rocklin and adjoining areas, we are able to find you the most competitive price and best contractor for your landscaping project.
Landscape designers can eliminate the headache, make the process fun and let you relax.
Many customers say they feel lost and overwhelmed by the idea of getting the landscape that they desire. Although the design part of the process often is fun, for many customers, soliciting, understanding, and negotiating bids can be a de-energizing experience. If you desire, we can handle this stage of the process ourselves. This allows you to relax and have fun with the entire process. The headache is gone.
---
What Sets Bluestar Landscape Designers Apart from Other Landscape Design Companies?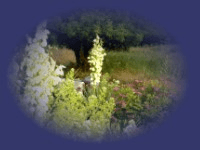 We have clarity in vision and communicating.
Our landscape designers' clarity in vision, ability to interpret the customers' wishes, and our creative talents make us effective in designing beautiful landscapes. We are passionate about our work, engaging fully in each project.
We enjoy the people aspect of our work and discovering how we can match up the right landscape to each customer.
We are organized, communicate well, and are flexible.
We have experience in designing and overseeing construction of all landscaping styles.
Please look at our photo gallery and before and after page to get an idea of the wide array of projects on which we have worked. All landscaping styles are fun for us to design, so we are happy to accommodate the style you like.
We are good at site design.
We are experienced in optimizing not only space, functionality, and circulation, but can do it in a beautiful way, to boot. We can create secluded, intimate garden rooms, or expansive open spaces that make you feel like your land goes right off into nature.

We really have an eye for aesthetics.
We know what looks good together, where to put features so that they stand out the most, how to give you curb appeal. We can help you choose the perfect flagstone and pots. We always keep in mind, though, your tastes and style.
We know plants well.
We enjoy the contact with the living aspect of our work—the plants! We have scads of experience in plant design and the many challenges that come with the territory. And we know the plants that will work in this territory. We don't put in the design plants that won't make it here, are the wrong plant for the space, or are unavailable. We know the nurseries in the Sacramento area well. Also, we try to be as earth-friendly as we can.  Since we have experience in the construction end of building landscapes, we won't waste your time designing a yard that you really can't afford.
We're reasonably priced.
It's not all about making money to us. We're doing this because we're passionate for landscape design.
---
Our Background
"My unique education and experience have given me a well-rounded, eclectic background that has served me well over the years. Fifteen years ago I changed careers from a bookkeeping/accounting business to landscaping after spending ten years of searching for more fulfillment in my work life. I had especially wanted to do something to help the earth, and knew I wanted to work with plants. I also felt passionate about the importance of creating more beauty and peace in this harried world. My vision for my life was to find a new career where I could proactively add to the positive.
While working my bookkeeping business full-time, I spent eight years of part-time formal re-education to form my foundation for a life with plants. I went to the University of Nevada Reno, and took all of the classes for a degree in biology, eventually entering a graduate program for restoration ecology. I discovered that science was not my true calling. I then moved to the Auburn area and took more classes in environmental horticulture, landscape design, and art to figure out my niche. When I started studying Landscape Design, I knew I had found it. I loved putting my pencil to paper and drawing all the forms of the design. I loved working with plants.  Eventually I realized how much I could help others to create their own haven in life–a sense of place for themselves. I could connect to other people (and the earth) through what I do. "If we would 'only connect'" has become a motto for me.
After all the courses, I began my "real life education" by working for a Landscape Architect/Contractor. During those fast-track, very full years, I learned the underpinnings of the landscaping business, in addition to how to create beautiful, yet functional, landscape designs.
After I started my own design firm in 2006, soon my clients began to ask me to participate with their landscaping construction. With time, my activities broadened to contractor procurement and full-on project management.
It is a real joy to be able to start with just a seed of an idea in my mind, let it grow to a vision, then design it, plan it, find contractors to build it, and oversee its construction so that the end result matches the vision. I love my work and hope to have many more years of helping others to achieve the happiness they are seeking in their own places."
–Cathie Tritel
---
Email:  cathie@bluestarlandscapedesigners.com
Phone:  916-624-1984  or  530-878-1984