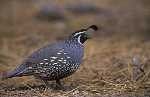 California Quail
Courtesy of U.S. Fish
and Wildlife Service
This native California sage garden provides habitat for bees and butterflies, important pollinators. Pictured are Salvia clevelandii (Cleveland's Sage), Muhlenbergia rigens (Deer Grass), Salvia apiana (White Sage), Achillea sp.  (Yarrow), Salvia sonomensis (Creeping Sage), and Eriogonum umbellatum californicum (Sulfur Buckwheat).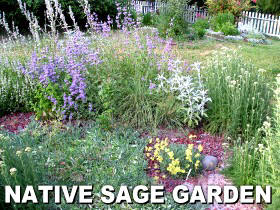 No matter what size land you have, there's always a way to attract wildlife. Providing habitat for birds, bees, butterflies, and some of the not so popular with the public (but critical to ecological stability) animals like snakes and mice, is one of the most rewarding endeavors. But perhaps even more important, creating a haven for wildlife is a powerful activity which can play an essential role in stabilizing wildlife food supplies, ecological restoration, endangered species protection, and orchard production. Backyard habitat can save pollinators' lives, as well as the lives of migratory birds which may stop over on your property. It may even help to reverse the trends of development and global warming.
To create backyard habitat, begin by reflecting  on how your yard provides for basic needs—water, shelter, and of course, food. Then evaluate what your property may be lacking and seek a remedy.
A simple bird bath will draw many birds to your yard. One that drips is particularly alluring since the sound is irresistible to many species. When cleaning up after winter, consider keeping some piles of sticks and organic matter around. Nesting birds will be delighted to
have the material for their nests, and quail will be relieved to have a place to hide. Put up nesting boxes for bluebirds, bats, and ducks. Be sure to provide protection from predators: keep cats inside the house; take precautions when mounting bluebird boxes to discourage predators; don't place bird baths near the ground. Consider keeping some grasses long to provide cover for the many animals who need it so desperately. It may take a while for wildlife to start feeling comfortable coming to your yard, but once they do, you'll find they're there to stay.
Providing food for wildlife is a great source of fun. Putting up bird feeders is, of course, an obvious way to provide food. Feeders are not necessary, though, if you grow plants which have high wildlife value. Gardening with native plants is ideal, since wildlife species have co-evolved with local native plants. This is particularly true in California which has such a diversity of plant communities which have adapted to specific soils and climates. Natives also require less water, fertilizer, and pest control.
When buying plants, it is most helpful to know the botanical name to ensure you are getting the right plant.
Some good native plants for attracting wildlife are:
Epilobium canum (California Fuchsia). Hummingbirds love the tubular bright orange flowers of this perennial which blooms starting in August and continuing through November when few flowers are still around.
Muhlenbergia rigens (Deer Grass) is a graceful golden grass which provides cover for birds, such as quail.
Eriogonums (the buckwheats) are great attractants of butterflies. Eriogonum umbellatum californicum (Sulfur Buckwheat) in mass provides a gorgeous display of yellow flowers which couple well with the native sages, such as purple Salvia clevelandii (Cleveland's Sage).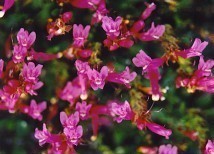 Native Penstemon spp. (Beardtongue) provides the best tubular-shaped flower that hummingbirds could love.


Eriogonum umbellatum californicum
(Sulfur Buckwheat)
Other valuable native plants for wildlife include: Heteromeles arbutifolia (Toyon), Acer macrophyllum (Big-Leaf Maple), Dicentra formosa (Western Bleeding Heart), Ribes nevadens (Sierra Currant), Amelanchier alnifolia (Western Serviceberry), Calycanthus occidentalis (Spice Bush), and Salvia leucantha (Mexican Bush Sage).
Some non-native plants also have high wildlife value.  Among them are: 
Callistemon citrinus (Lemon Bottlebrush), the qualities of which cannot be overstated. It blooms at least twice a year in spring and fall (even winter).  Hummingbirds love the bright red flowers, which add a beautiful splash of color on cold rainy November days.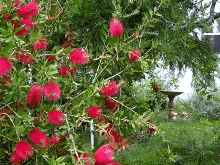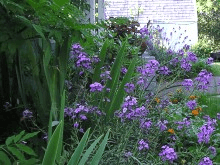 Fragrant Erisymum 'Bowles Mauve'(Wallflower) seems to bloom continuously from fall to spring and attracts butterflies. Combine it with Iris sp., another pollinator attractor, and you have an enchanting cottage garden.
Even in snow, Chaenomeles japonica (Flowering Quince) can help hummingbirds get through a late winter. Its thorns make it resistant to deer and it does well in clay soils—two important characteristics for California foothill gardens.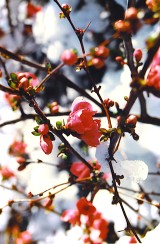 Other non-native plants of high wildlife value include Chrysanthemum maximum (Shasta Daisy) (finches love the spent seedheads in fall), Buddleia davidii (Butterfly Bush), Pyracantha coccinea (Firethorn) (of high value for its rich red berries), and the various Lavandula(Lavender) species.
Making your land a haven for wildlife could be one of the most important things you do.  Get started on it today! It's such a positive way to make a contribution.
Please call Bluestar Landscape Designers at (916) 624-1984 or (530) 878-1984 to set up an appointment for us to assess how we can accomplish this on your property. Or email us at cathie@bluestarlandscapedesigners.com.
Email:  cathie@bluestarlandscapedesigners.com
Phone:  916-624-1984  or  530-878-1984