Email:  cathie@bluestarlandscapedesigners.com
Phone:  916-624-1984  or  530-878-1984
Services
---
Plans    

   Post-Design / Installation Phase Services
Consultations & Hourly Services    

   How We Help Contractors & Homebuilders
What is Softscape?    

      What is Hardscape?
---
PLANS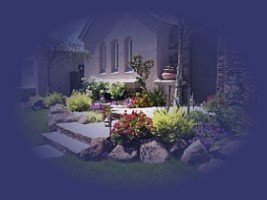 Most of the time landscape design plans are needed. (Please go to our Design Process page to learn how we proceed when plans are recommended.)
What is included with a basic set of landscape design plans?
Site analysis and measuring
Scaled plans (hand-drawn or by CAD):
• Layout Plan (showing hardscape elements: see sidebar below for  what hardscape is)
• Planting Plan (softscape)
What additional plan services are available?
Help with Homeowners Associations' requirements
Specialty planting plans (California native plants, hummingbird and butterfly gardens, wildlife habitat landscapes)
Lighting Plans
POST-DESIGN / INSTALLATION PHASE SERVICES
After plans are completed, we are available to help you with the following:
Referring you to an installer
Finding your plants for you (this ensures best quality)
Choosing hardscape materials, e.g., flagstone, concrete colors, pots
Making site visits during installation to ensure the landscape is being built in line with our creative vision
Field placement of plants
CONSULTATIONS & HOURLY SERVICES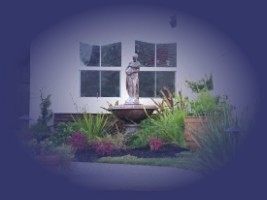 Sometimes plans aren't necessary. We can meet on an hourly fee basis and discuss your landscaping needs. Please call us to find out what our minimum fee is.
What are some examples of when you might choose to use a consultation or hourly service?
To get help on which direction to go with your landscape.
To help you buy pots and the plants for them.
To redesign an existing landscape with new plants.
To help you solve drainage and irrigation problems.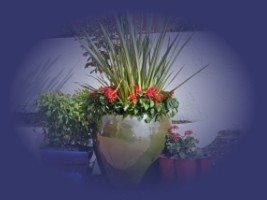 Yard makeovers  Let us customize new neighborhood production landscapes, help you figure out old plants to take out to update your yard, change an old landscape to your style.
Selling your home?  We can discuss how to revamp your landscape to help make it sell.
Having a party? We can dress up your pots and primp/prune your plants to make your place look good.
Yard primping / pruning   We can do light primping of your plants on an occasional basis.
Pots: Real or Silks   We can make up beautiful pots to suit your style, usually with real plants, but for that hard-to-irrigate pot, we can make silk arrangements.
HOW WE HELP CONTRACTORS AND HOME BUILDERS
We provide all of the above services for contractors and home builders, but are always on the lookout for good installers. Give us a call if you would like us to use you for installations or if you need help with:
Plant buying and layout
Designs
Design input during the installation process (we're used to working with the crews)
---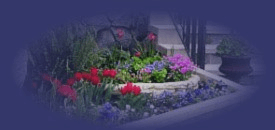 What is Softscape?
The Plants
---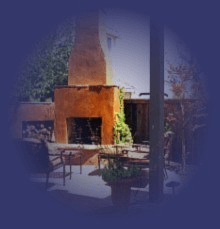 What is Hardscape?
The structure of the landscape
(everything but the plants)
Overhead Structures, Retaining Walls, Water Features, Lighting, Patios, Decks, Walkways, Seatwalls, Mounds, BBQ Islands, Firepits, Dry Stream Beds, Fireplaces
Email:  cathie@bluestarlandscapedesigners.com
Phone:  916-624-1984  or  530-878-1984